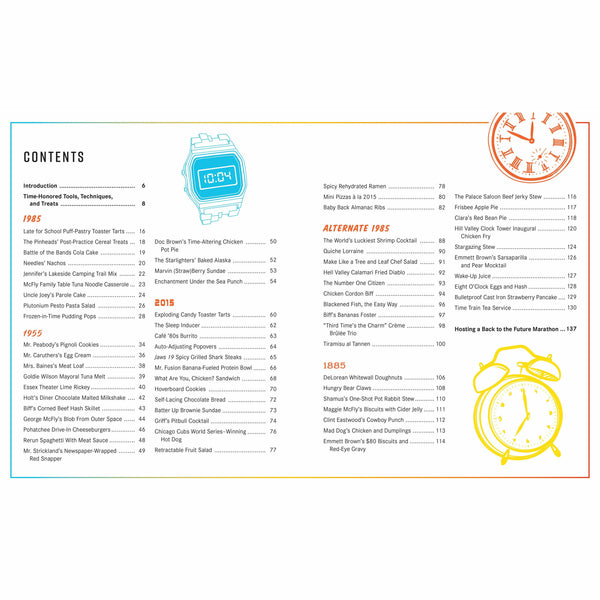 Back to the Future: The Official Hill Valley Cookbook hardcover book by Allison Robicelli
Regular price
Sale price
$29.88
Unit price
per
Over Sixty-Five Classic Hill Valley Recipes from the Past, Present, and Future!

Hill Valley may have changed a lot over the years, but the friendly town at the center of the beloved
Back to the Future
franchise is a treat to visit in any time period. Following the series' era-hopping timeline,
BACK TO THE FUTURE: THE OFFICIAL HILL VALLEY COOKBOOK
celebrates Hill Valley with over 65 recipes from the different time periods represented in the films.
Start your culinary journey in good ol' 1985 with quick, convenient recipes perfect for a busy scientist or teenager with rock n' roll dreams. Then travel to 1955 for some mid-century American favorites straight off the diner menu and family table. Nosh on mini pizzas and retractable fruit salad in the far future of 2015. Visit the casino buffet of Biff's alternative 1985. Finally, end your journey in 1885, where the hardy frontier fare should keep you going through shoot-outs, runaway train rides, and whatever else the Wild West can throw at you.
Featuring full-color photography, this time-hopping, genre-defying cookbook is the perfect gift for foodies, home cooks, and
Back to the Future
fans from all decades!
144 pages

Measures: 8"x10"

Hardcover

Allison Robicelli is a James Beard-nominated best-selling author, food & travel writer, and media personality. She has written for outlets Food & Wine, Taste, Food52, Eater, and Bon Appetit. She has been on Food Network, Cooking Channel, VH1, and many food-oriented web series. She lives in Baltimore with her husband Matt, their two sons, and three cats.