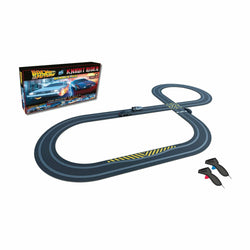 Scalextric 1980's TV - Back to the Future vs Knight Rider 1:32 scale slot car race set
Regular price
Sale price
$219.88
Unit price
per
Get ready for the ultimate Scalextric battle with the new
Back to the Future
vs Knight Rider Race Set. Buckle up as the iconic Michael Knight racing K.I.T.T or imagine traveling in the
Back to the Future Part II
Time Machine as Marty McFly. Combining retro Scalextric branding with the high detailed and functional film inspired vehicles, as well as everything you need to begin your Scalextric journey in one box.
WORKING LIGHTS
K.I.T.T comes to life with iconic pulsing red strobe light on the front of the car. Great Scott!...The Time Machine has working front and rear lights including working flux capacitor. Wait until the sun has set and race head to head in the pitch black.
MAGNATRACTION
Patented Magatraction system helps the car to stay on the track. Powerful magnets in the chassis provides extra traction and downforce. Reduces the amount of skidding and crashing!

SIDE SWIPE
Take the opportunity to knock or opponent off the track or try to avoid a side on collision at the side swipe. 2 Straight hairpin track pieces.
CROSS OVER
Dual lane crossover with yellow chevrons. Dodge the 'danger zone' to avoid full impact or take the opportunity to knock you opponent off the track.
Two of the most iconic film cars ever go head-to-head in this brand-new set from Scalextric! Will you be Michael Knight in Kitt?! Or Marty McFly in the Back to the Future Part II Time Machine! Whether you are doing 88MPH or chasing down bad guys, red LED lights flashing either car is a guaranteed winner on the big screen, small screen or Scalextric track! This set contains everything you need to race Scalextric, including two cars, power, over 5.3 meters of track including a crossover and side swipe, 2 easy speed limiting hand controllers.
Item Scale: 1:32 Scale
Color: Multi
Number of Parts: 27
Compatible with ARC AIR/ARC ONE: No
Compatible with ARC PRO/Digital: No
Compatible with Spark Plug: Yes
Track Pieces Included: SA-00356 SPORT HALF STRAIGHT POWERBASE x 1C8205W STANDARD STRAIGHT x 2C8206W STANDARD CURVE 45 DEG x 12C8207W HALF STRAIGHT x 1C8208DW SIDE SWIPE DECORATED - LEFT TO RIGHT x 1C8209DW SIDE SWIPE DECORATED - RIGHT TO LEFT x 1C8210DW CROSS OVER 90 DEG x 1C8263W LEAP TAKE – OFF x 1C8264W LEAP LANDING x 1
360 Guideblade: No
Decal Sheet Included: No
Digital Plug Installed: No
Super Resistant: No
DPR: Yes
High Detail: Yes
Magnatraction: Yes
Front Lights: Yes
Rear Lights: Yes
Siren: No
Specification: Mid-range
Control: Analogue
Layout Options: 4