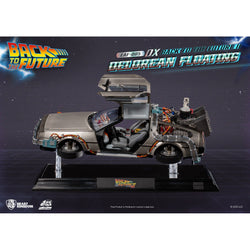 Back to the Future Part II Floating DeLorean Time Machine - Deluxe Edition [PRE-SOLD OUT! Expected Availability September 2024!]
Regular price
Sale price
$329.88
Unit price
per
Beast Kingdom's 'Entertainment Experience Brand' is now proud to present a new "Egg Attack Floating" release, bringing to life the iconic DeLorean Time Machine from Back to the Future Part II. What better combination than bringing to life the most well-known function from the car, its levitation functionality? With a length of almost 8 inches, the professionally painted collector's piece includes silver-coating effects and detailing across. From the iconic gull-wing doors, which can be raised, to the flux capacitor, no detailing has been spared to bring the DeLorean to life.
To truly get the speed up to 88 miles per hour, both the interior and exterior feature LED lighting functions, as well as the addition of two full sets of replaceable tire options, including the ground version as well as the raised version for flight option. Eagle-eyed fans can also enjoy finding the included accessories such as the scaled-down hoverboard and sports almanac.
But above all, the most exciting feature must be the magnetic levitation function that brings the iconic DeLorean to life in all its glory. Pair the car with the magnetic base, which includes the iconic Back to the Future logo, to complete the experience. So, make sure you order yours today and relive the time-travelling adventures from the iconic film!
This deluxe version of the set also includes a static display with flame trails for fans who would like to display the DeLorean as it takes flight at 88 miles per hour. 
Features:
7

⅞-

inches long
Components: plastic, diecast, rubber, magnets
Magnetic Floating Base comes with light up function

Includes Type C charging cable (12V adapter sold elsewhere)
Package Includes:
DeLorean model
Set of flying tires
Magnetic base
Type C charging cable
Static display with flame trails
Instructions
Note: a 10% fee will be applied to canceled pre-orders prior to shipping.